Frequently asked questions
Where can I use the Clean Exit?
---
Anywhere! The Clean Exit is small, sleek, and takes up no space. Install the Clean Exit onto any door with a lot of foot traffic, your office space restrooms, public areas, homes, etc.
---
What is the Clean Exit made out of?
---
The Clean Exit is made of double powder coated steel. The material is durable, strong, and made to last so no amount of stepping could damage or scratch the Clean Exit!
---
I'd like to partner or collaborate with Clean Exit.
---
We would love to partner with you! Send us an email at cleanexit1@gmail.com or give us a call at (970) 948-9492.
---
How long does it take to install the Clean Exit?
---
The Clean Exit does not require any experience to install! All you need are some basic tools and a drill. Installing is done in a matter of MINUTES. Check out our YouTube how to install video to see how easy it is!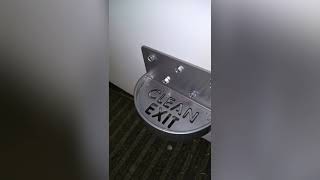 ---
---